This is the second part of my suggestions post for finding a domain and web hosting provider, where I focus on an excellent UK based web host.
If you're looking to host a website for your personal project or small business then take a look at this great affordable suggestion.
This is a 2 part series so be sure to check out this post if you are looking for a recommendation for a domain provider!
Now, my experiences with this provider have been nothing short of outstanding, so here it is:
For many of the same reasons as I recommended Google Domains, Krystal hosting is a no-nonse, to the point web host. Krystal offers affordable hosting at a flat price and renewals don't suddenly rise either. Perfect.
And that's not mentioning the clean client portal, seamless cPanel features, blazing quick servers in the UK, and possibly most important: best-in-class customer support.
Other Considerations When Looking to Host a Website
Krystal is also 100% green, meaning all the power Krystal consumes running their servers comes from renewable energy sources. They also offer other great products, such as their managed WordPress hosting on their proprietary Onyx platform. It's no surprise they're rated 4.9 stars with over 1000 reviews.
I managed to launch this site for just £15.99 initial cost with a monthly payment of £5.99 (which can be lower if you choose to renew quarterly, annually, or even longer) and a yearly payment of £10. That's a small price to pay for the quality of product if you ask me.
So if this post has piqued your interest in starting that project, and you were looking to host a website, then why not give these two providers a go. If you have other suggestions I'd love to hear them!
Happy developing! – BM 🙂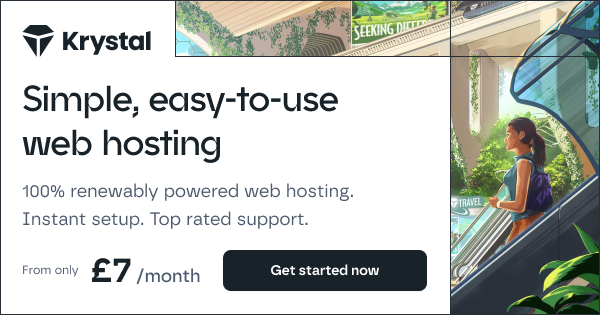 If you enjoyed this article then feel free to leave comment and check out my other articles. You can also contact me here.